Listen to stories and interviews of remarkable women in the GCC countries. Be inspired.
Bahrain
Sportswoman of the Year
First woman to represent Bahrain at the Olympic Games (2004)
Minister of Culture & Chairperson of the UN World Heritage Committee
Wife of King of Bahrain
Head of Supreme Council for women
Kingdom of Saudi Arabia
Saudi's UN Goodwill Ambassador
Young Global Leader at the Davos World Economic Forum
First female member of the Saudi Arabian Council of Ministers
Vice Minister for Women's Education
First woman member of the Board of Directors of the Saudi Federation for Equestrian
Strong advocate for women's rights
President of the Board of Directors of the Center
The youngest Saudi female jockey
Vice Chairwoman of the Board of Trustees of the Alwaleed bin Talal Foundation
Board of Trustees of Silatech
Womens' rights advocate and Fashion icon
Parliamentary Advisor
Kuwait
Professional Fencers
Kuwaiti Businesswoman
Cofounder and Chair of Global Investment House
First female minister
Only woman in the Kuwait 16-minister cabinet
Minister of Commerce and Industry (2011)
Economic Policy and Knowledge Development Achiever Award Recipient (2010)
Oman
Minister of Higher Education
First woman in Omani cabinet as minister
First woman minister in the gulf
First Arab Woman Ambassador to the US
Dedicated to improving image of Arab women in the United States
President of National Association for Cancer Awareness (NACA)
Local businesswoman who sells products made from Fanchise
Qatar
Established Qatar Foundation's Education city
Woman CEO of the Year
Deputy Chief Executive Officer of Nasser bin Khaled Al Thani Holding
Engineer for Qatar Airways
United Arab Emirates
First Emrati female pilot
Martial arts champion
First Gulf woman to carry her nation's flag at the Olympic
Co-Founder of Emirati Tweet, the UAE's first online Majlis
First Arab woman to reach the North Pole
Forbes Most Powerful Arab Woman 2010
UAE Minister of Foreign Trade
CEO of Forsa
Founder of "Journey Through Change"
Artist and has her own label, "My Private Collection"
President of the General Women's Union
President of the Supreme Council for Motherhood and Childhood
Chairwoman of the Family Development Foundation
Honored by the UN with the Memorial Shield of Honor
Trailblazer of the Year award for women in media (2010)
Sports Media Woman of the Year(2010)
* after names signify an GCCWomen.org interview
Featured Celebrating Women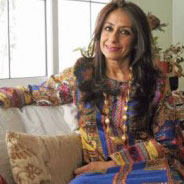 By: Farrah Alshash One of the most interesting and inspiring moments of my life occurred on this September day, when I got to sit and get to know Hala Kazim, "aka mama Hala", the founder of "Journey Through Change". You can read about people all the time, but when you get to meet and know the person first hand, it's different.  It can be a hit or miss.  Meeting with Kazim was like taking a breath of fresh air on a beautiful spring morning.   I couldn't help but feel motivated, inspired, and full of positive energy during our...
read more
A rising star to watch, Muna AbuSulayman is Saudi's UN Goodwill Ambassador, a TV personality with a number one hit show for five years, and a Young Global Leader at the Davos World Economic Forum. She is the first woman to head up the Alwaleed Bin Talal Foundation (ABTF), and the mother of two girls under sixteen. There are clearly many reasons that Muna AbuSulayman is known as an extraordinary role...
read more
Sheikha Lubna bint Khalid Al Qasimi is the first woman to assume a cabinet position in the United Arab Emirates and has served as the country's Minister for Foreign Trade since 2008. From 2004 to 2008, she was Minister for Economy of the U.A.E. Prior to entering politics, she was a successful businesswoman in the Gulf region. Three decades of experience in business and politics have made her an ideal champion for entrepreneurs in the GCC and beyond. She also continues to serve on the Board of Tejari, of which she was at one time...
read more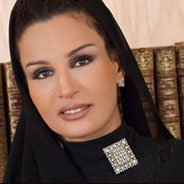 HH Sheikha Mozah bint Nasser of Qatar is an inspiring presence on the world stage among those working toward lasting peace through outreach, humanitarian assistance and education initiatives. She works tirelessly to maintain rigorous standards in science and education and to direct aid from Qatar to areas struck by terrorism and natural disasters. With HH Emir Sheikh Hamad bin Khalifa Al Thani, Sheikha Mozah established Qatar Foundation's Education city, which provides extraordinary opportunities throughout the region to students who...
read more